Comfort is one of the important things you need to prioritize as a lineman. This is because when you are uneasy, the chances of risks are far too high in the field. And when considering the overall comfort as you climb, then you must have the most comfortable lineman boots today.
Why Lineman Boots Are Important
A pair of good lineman boots is one of the things that complete the Personal Protective Equipment of a lineman. And without it, a lineman cannot complete a task in the field appropriately.
In terms of safety, the lineman boots are the ones that provide it to the users as they climb poles or trees. Also, it protects the feet from the external factors that may affect a specific lineman job.
In terms of mobility, an effective pair of lineman boots is largely the main factor that helps lineman climb trees and poles. Along with the right belt and lanyard, he can then proceed to climb safely and effectively.
So, wearing a good pair of lineman boots is essentially a must for every lineman.
What Makes A Pair of Lineman Boots Effective
Today, there are quite a lot of great pairs on the market. And they all come in different colors, sizes,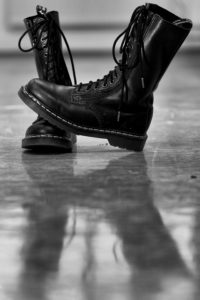 qualities, characteristics, and features. But while they are all great in terms of their overall appearance and features, not all of them are effective.
Apparently, the main thing that makes a pair of lineman boots effective is its ability to provide stability, efficiency, and safety. When these three factors are provided by the lineman boots, lineworkers can effectively do their jobs.
Starting from the outer soles of the boots, they must have good traction and threading. As for the inner soles, they must provide great easiness and comfortability. And when considering the shanks and materials of the boots, they all must provide quality grades of materials for better durability and stability.
Other features like waterproofing and weatherproofing are also normally incorporated to different lineman boots. And these are very helpful in every task that a lineman does for work.
Accordingly, it can be quite challenging for some lineman to find the best and most appropriate pair of lineman boots for them. Nevertheless, when comfort and stability are highlighted, lineworkers would easily know which one is the right pair for them.
So, What Is The Right Pair For You
By and large, comfortability is largely subjective. What's comfortable for you may not be very suitable for others. And similarly, what's easy to use for you may not be very easy for others.
And because of this, the most comfortable pair of lineman boots for you is largely dependent on your usage. You and you alone can know this. Although you may consider the inner soles as they are the ones that provide comfortability, you must understand that the overall comfortability of a pair of lineman boots lie on the overall structure and built of the pair.
Hence, the most comfortable type for you is the one that can give you the ultimate freedom and safety in the field as you accomplish your tasks.