Adtec is apparently one of the rising footwear brands of today. But while they offer several types of shoes and boots, work boots are largely the ones that made them popular nowadays. For this reason alone, I've come up with a simple guide for interested buyers like you. Moreover, this AdTec Men's 9-inch Logger Boot Review aims to help consumers know if this pair of boots is a great fit for them.
A good pair of work boots is essential to anyone who is working in a technical-related industry. For lineworkers, lineman boots are largely the ones they utilize when working on site. As for loggers and hunters, logger boots are much more appropriate.
And, if you are planning to buy a pair of work boots anytime soon, this might be a good help for you.
A Quick Look on AdTec Men's 9-Inch Logger Boot Review
The Adtec Men's 9-Inch Logger Boots is a very versatile pair of work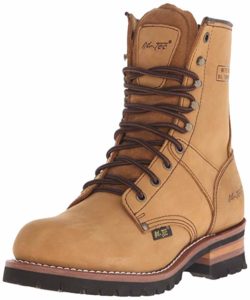 boots. In fact, many technical-related laborers choose to utilize this footwear even if they are not loggers or hunters. And the most apparent users of this pair of boots today are the lineworkers.
If you are to consider the difference between logger boots and lineman boots, there are quite a lot of features that you would see in lineman boots that are not included in logger boots. But even so, this pair of work boots from AdTec provides the exact features that any lineworker would need when working on site.
Features and functions
The AdTec Men's 9-Inch Logger boots offer two color tones. They have the brown and black colors for the pair. For most lineworkers, black is the primary choice. But, if you are inclining towards a more unique and stylish appearance, the brown color may suffice your preferences.
As for the material, this pair of work boots is largely made out of strong leather. Along with the leather material, the sole is made out of pure rubber which adds to the overall quality of the treading and traction of the boots.
In addition, the leather material is deeply soaked in oil essence. This allows the boots to be water resistant. However, some users find it very inconvenient, especially when unpacking it upon the arrival of the package. And it is because the oil tends to leave residues in some aspects of the boots. Also, the box may appear as very untidy. Nevertheless, this only happens in the first few months.
is it appropriate for lineworkers?
Apparently, it depends. The AdTec Men's 9-Inch Logger Boots is not entirely designed for lineworkers. Hence, it lacks a few features that lineworkers would need when working on site. For instance, it is not shock-proof and insulated. Also, it does not have steel breastplates for the leg support.
Although it may lack these features, lineworkers who use this pair of boots normally use this only when working on simple tasks. But when they need to climb poles and work with live wires, they have other pairs in their respective storages and lineman bags.
Summary
Reviewer
Review Date
Reviewed Item
Adtec Men's 9-inch Logger Boot
Author Rating