It's been over weeks now since my latest tool set purchase arrived. And today, I am making this Wiha 32800 Insulated 80-Piece Tool Set Review. This is to help people who are looking for a one-time big-time purchase of electrical tools.
If you are wondering if this is also applicable to lineworkers, the answer is definitely, a yes. And if you want to know what are basic tools for a lineman or an apprentice, you may check it here. But, you should keep on reading if you are interested in this 80-piece tool set.
The Ultimate Wiha 32800 Insulated 80-Piece Tool Set Review
Electrical and lineman tools are not apparently cheap. In fact, they are investments especially if you are still attending a lineman school. Now, it is easy to get a few tools on the market today. But, having the best and quality set of tools is hard to come by.
The Wiha 32800 Insulated 80-Piece Tool Set is a good purchase. For a price that falls under $1350 price range, it's quite a catch. So, if cost is a top factor for you to consider, you may want to purchase this as well.
Side note: you can save about $300 in totality.
You may check a few details here in this video to learn more about the WIha 32800 Tool Set:
Package Inclusions
The package comes with a plastic stroller bag. It has wheels and a flexible handle so you can bring it as if you are carrying a luggage with you. As for the tools, here are the specifications:
Pliers, Cutters, and Knives
Two Long Nose Pliers: 6.3″ and 8.0″
Bent Nose Pliers: 6.3″
Long Flat Nose Pliers: 6.3″
Combo Pliers / Crimpers: 9.0″
Diagonal Cutters: 6.3″
High Leverage Cutters: 8.0″
Cable Cutters: 6.3″
Stripping Pliers: 6.3″
Insulated Cable Knife: 50mm
Wrench and Sockets
Adjustable Wrench: 8.0″
Seven Insulated Sockets in Inches: 1/2″, 9/16″, 5/8″, 11/16″, 3/4″, 13/16″, 7/8″
Seven Metric Insulated Sockets: 13.0mm, 14.0mm, 15.0mm, 17.0mm, 19.0mm, 20.0mm, 22.0mm
Screwdrivers and Nut Drivers
Five Insulated Nutdrivers in Inches: 7/32″, 1/4″, 5/16″, 3/8″, 7/16″
Five Metric Insulated Nut Drivers: 5.0mm, 5.5mm, 6.0mm, 7.0mm, 8.0mm, 10.0mm, 13.0mm
Ten Insulated Slotted Drivers: 2.5mm, 3.0mm, 3.5mm, 4.0mm, 4.5mm, 5.5mm, 6.0mm, 6.5mm, 8.0mm, 10.0mm
Four Insulated Phillips Drivers: #0, #1, #2, #3
Two Insulated Slt/Ph Terminal Drivers: #1, #2
Three Insulated Square Drivers: #1, #2
Nine Insulated Torx Drivers: T6, T7, T8, T9, T10, T15, T20, T25, T30
Other Tools
2-Meter Ruler in Inch / Metric
Insulated Ratchet: 3/8″ Drive
Insulated Extension Bar: 3/8″ x 4.9″
Single Pole Voltage Detector
Insulated Inch T-handles: 5/32″, 3/16″, 7/32″, 1/4″, 5/16″, 3/8″
Insulated Metric T-handles: 4.0mm, 5.0mm, 6.0mm, 8.0mm
L-Key with insulation: 10mm and 1/2″
Key features and functions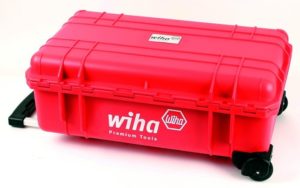 All tools come with insulation. Also, they are all tested to 1000 VAC and rated to 1000 VAC. Moreover, each of the tools went through several tests to meet different standards.
Although the luggage-style toolbox is quite pleasant in the eyes, the functionality is slightly off. The tools keep on scattering every time I bring the toolbox with me. Nevertheless, this Wiha 32800 Insulated 80-Piece Tool Set is still a good deal.
As for durability, they are all in good condition. And it seems that the materials are very sturdy and yet comfortable for using. Plus, it comes with a lifetime warranty. So, there is not much to worry about replacements.
Now, I hope this Wiha 32800 Insulated 80-Piece Tool Set Review could help you decide whether this is a great deal or not. In the end, your preferences are still the ones that matter.
Summary
Reviewer
Review Date
Reviewed Item
Wiha 32800 Insulated Tool Set with Screwdrivers, Nut Drivers, Pliers, Cutters, Ruler, Knife and Sockets in Rolling Tool Case, 80-Piece Set
Author Rating