Are you looking for a set of screwdrivers? If it's a yes, then you have come to the right place! I have here a Greenlee Insulated Screwdriver Kit review for you to check.
In this guide, I've included both the good points and drawbacks of the screwdriver set.
A little background about the product, I purchased this kit recently for my apprenticeship program. I had different screwdriver kits before but I need a replacement for my practical exams. And a few weeks before the exam week, I came across the Greenlee 0153-01-INS Insulated Screwdriver Kit.
So, I observed each piece from the kit for me to know whether this will be good enough.
Experiencing Greenlee: A Greenlee Insulated Screwdriver Kit Review
By and large, screwdrivers are very important tools to any apprentice and lineman. It is basically one of the most common lineman tools. And having a quality set or kit of screwdrivers is a requirement.
Upon arrival of the package, I was so excited to test the screwdrivers. But to my dismay, there are only two types of screw drives included. And these two are the most basic and common ones.
There are nine pieces of screwdrivers in the set:
#1 x 3″
#2 x 4″
#3 x 6″
1/4″ x 4″ Cabinet-Tip
3/16″ x 4″ Cabinet-Tip
3/16″ x 6″ Cabinet-Tip
3/16″ x 8″ Cabinet-Tip
5/16″ x 6″ Cabinet-Tip
3/8″ x 10″ Cabinet-Tip
All of these come in an organized and customized tool roll-up carrier. But while they are pretty basic, I find the roll-up carrier very convenient, portable, and compact.
Compliances and Certifications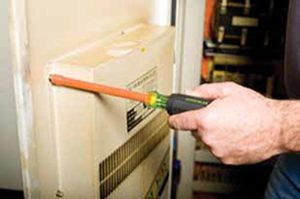 Each screwdriver is tested to 10000 VAC. And all are rated up to 1000 VAC. Also, they all passed different certifications which are useful especially if you are working in an electrical-related field.
Apparently, all the drivers comply with both IEC 60900 and ASTM F1505 Standards. In addition, they all meet the requirements of OSHA 1910, NFPA 70E, and CSA-Z462.
Key Features
The Greenlee Screwdrivers Kit comes with insulation. In fact, it is a dual layer of insulation which is much more efficient and effective for protection against electric shock. So, users can use this kit even on live wires and cables.
During my observation with these screwdrivers, I've seen that it works well with brass and stainless-steel. The tips of each driver use black phosphate plates. But, the tips are non-magnetic. So, there are times that it can be quite difficult to handle a few drivers. Nevertheless, magnetic tips have its ups and downs. In this case, you no longer need to worry about the collection of unnecessary metal waste fillings.
The handle of each screwdriver is very comfortable. And I like the colors of it too. It comes in matte black with green linings for its brand. Although this is not very important, some lineworkers tend to have biases when it comes to appearances.
Ultimately, I find the Greenlee Insulated Screwdriver Kit a decent set. While it only provides a very limited option for screwdriver types, it still does the job of unscrewing and screwing compatible screws.
If you want to know more about the details of the Greenlee Insulated Screwdriver Kit Review, here is a quick video:
Summary
Reviewer
Review Date
Reviewed Item
Greenlee 0153-01-INS Insulated Screwdriver Kit, 9-Piece
Author Rating