I have this HOFFMAN Boots Powerline Review to help apprentices and linemen in finding the right boots. And since the range of selection is quite tight nowadays, this guide could help you point to the right direction.
In the recent times, the number of apprentices and lineworkers are quite increasing. Also, lineman schools are becoming more in demand. But while the demand is significantly increasing, the market for lineman boots is yet to bloom. Nevertheless, there are still brands and names that produce quality boots.
You must understand that a pair of lineman boots is one of the first lines of defense. And for a lineman, this is a must-wear for safety and security purposes. That is why choosing a quality pair of boots is a must.
HOFFMAN Boots Powerline Review
I recently bought a new pair of lineman boots. My co-workers largely recommend the HOFFMAN Boots 10″ Powerline and so I did purchase one. I was so excited when the package arrived. But, I literally waited for a few weeks for the package as it would usually take 3 to 4 weeks for the company to ship the products. This is one of the downsides of purchasing it.
Nevertheless, the overall appearance of the boots took all my frustrations in waiting. The style is so classic and sleek which makes it very easy to complement different types of clothing.
Actual Usage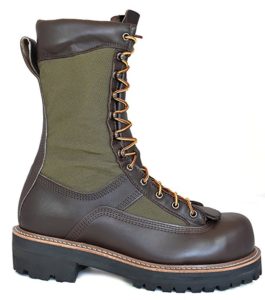 On the first day of using the boots, I find it very uncomfortable. Although I know boots and shoes may require a few days for them to fit well, this pair takes a while.
The height of this boots is 10 inches which is really tight making it very uneasy for me to climb during the first few weeks.
In addition, they are quite heavier than I thought. I compared it with the older boots that I have and it turned out to be the heaviest. And that is another thing that I don't like about it as it adds significant weight when I climb.
Apparently, it is not ASTM standard. But, this pair meets the current EH rating. Also, it is important to note that this HOFFMAN Boots 10″ Powerline is not steel-toed. I chose the plain-toe since it's not essentially required.
The most reliable feature that this pair caters is its waterproofing. It is very useful, especially when working on wet areas and grounds. My feet are always dry even on rainy days.
Also, the durability and the repair processes are quite impressive. The manufacturer, HOFFMAN Boots, apparently offers direct repairs for their products. But, it would cost you 1/3 of the original price. So, it's quite hefty.
The Verdict
The HOFFMAN Boots 10″ Powerline is very durable and largely for heavy-duty purposes. If you are a professional lineman but still familiarizing yourself in the field, this may not be your best pair of boots. As for apprentices and long-time lineworkers, this could be a great pair of lineman boots as it can help you train your climbing skills.
For more details on the HOFFMAN Boots Powerline Review, you may watch this video:
Summary
Reviewer
Review Date
Reviewed Item
HOFFMAN BOOTS Men's 10" Powerline
Author Rating