Recently, Wesco is making its noise in the market. For some reason, they are largely receiving a lot of praises from many consumers. Upon checking, the Highliner boot line of the company is becoming more in demand. So, I decided to make this Wesco Highliner 10-Inch Lineman Work Boot Black Review and see if it really stands to its fame.
Wesco Highliner 10-Inch Lineman Work Boot Black Review
Apparently, Wesco is a very prominent company in the field of work boots. They have been in the industry for decades now and still pursuing for more growth. In line with this, they have released a new lineman work boot in their Highliner product line.
The Highliner line of boots consists of several types and variations of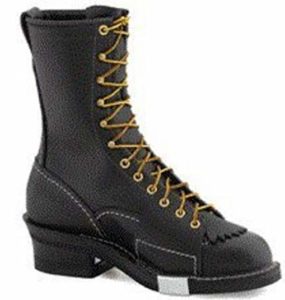 work boots. Although most lineworkers are found to benefit from the line, there are also hunting and motorcycle boots included in the said line. But even so, the Wesco Highliner 10-Inch Lineman Work Boots is the one that is largely noticed by many consumers today.
In some lineman schools, Wesco is usually one of the recommended brands for lineman boots. Journeymen and trainers would highly commend them since almost all of their products are tried and tested already.
As for the Wesco Highliner 10″ Lineman work boots, many are still in the process of trying and testing its features and functions. Accordingly, many are actually liking this pair of work boots.
Overall Built and Appearance
The overall built and appearance of the Wesco Highliner 10-Inch Lineman Work Boots is quite sleek and classy. And if you are one of those lineworkers who are very much conscious when it comes to style, this might be the best choice for you.
Others, however, find it very daring and bold, especially for those workers who are not very meticulous with the way they look. But, this is largely a personal preference.
As for the materials, full-grain leather is used in its structure. And it is in a black tone which adds to the overall sleek appearance of the boots.
Features and Details
This pair of boots actually features the #100 Vibram Sole. It also has leather side flaps and removable false tongues. Moreover, the pair comes with a ribbed and slightly arched steel shank for maximum support.
These details are apparently great points for the boots. And this is because they are the ones that give the user a more comfortable and safe usage.
In addition, this pair has a recessed metal heel breastplate. Hence, when a lineman wears the climbing spurs, it protects the outer layer of the boots.
Drawbacks and Cons
It may sound too perfect for others, but the Wesco Highliner 10-Inch Lineman Work Boots has its downsides as well.
Primarily, it costs more than $400. So, be prepared to shell out a few more when you plan to purchase this pair. And secondly, it is not really lightweight. Due to the added metal heel breastplate, it will feel a little heavier than the usual lineman work boots.
But even so, many are still looking forward to buying their own Highliner lineman boots.
Summary
Reviewer
Review Date
Reviewed Item
Wesco Highliner 10" Lineman Work Boot Black - 9710100
Author Rating