Kenetrek is one of the top brands of quality boots in the recent times. And this Kenetrek Lineman Extreme Boots Review aims to help linemen and apprentices who are looking for a great pair of boots.
Generally, lineman boots are essential to any lineworker. They provide safety and security, especially for climbing tasks. Also, boots are part of the required personal protective equipment for a lineman and electrician. This is largely the reason why a quality and durable pair of lineman boots is a must.
Today, a quality pair of lineman boots is challenging to find. The market caters only a few of this kind. And because of this, many lineworkers find it very difficult to find the right pair since the choices are limited. So, if you are looking for the right match for you, this review may help you. It's either you'll stop the search and purchase this one, or, you cross this one on your list.
Kenetrek Lineman Extreme Boots Review
When finding the right pair of lineman boots, there are several factors you need to consider first. And I used these as guides to find my best pair. So, to help you further, I've listed it all as well in this review. This will allow you to decide whether the Kenetrek Lineman Extreme Boots is a great pair or not.
Comfortability
This is important to lineman boots as comfortability plays a huge role in safety as well. And for a pair of boots to be comfortable, it has to have a great ankle support.
The Kenetrek Lineman Extreme Boots has stable and quality ankle support. In fact, the designs are all guided by orthopedics and specialists. Also, it features an extra padded soft collar. It has a reinforced structure and a full-lacing feature.
Quality of Soles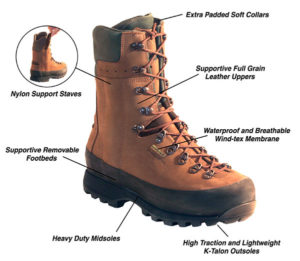 Aside from comfortability, a great quality of soles provides the efficiency and safety in climbing. The Kenetrek Lineman pair has an aggressive traction. The outsoles are apparently lightweight and heavy-duty.
These are all great attributes to the soles since they pretty much support securely the climbing activities.
Steel Shanks
The shanks of this pair are steel. This means that the support from the insole and outsole are efficient. Many lineworkers today attest that using this pair allows them to have great climbing tasks. It does not slow them but rather provides stability, safety, and convenient when climbing on site.
Other Safety Features
The Kenetrek Lineman Extreme Boots feature an insulation. And this is a must for any lineman boots. However, many linemen think that the pair does not possess this kind of feature. There are cases that they would return the pair and have them insulated by the manufacturer.
Also, this pair has waterproofing. Although the materials of the membrane do not appear so, the waterproofing is very efficient. In fact, hikers also use this pair in their hiking activities.
To know more about the Kenetrek Lineman Extreme Boots Review, this video may help you:
Final Thoughts
The Kenetrek Lineman Extreme Boots is an ultimate pair of lineman boots. The features and efficiency of each are guaranteed. And if you are a professional, you would want to get this. But, if you are an apprentice – this is not very recommended. Nevertheless, this is one of the most trusted lineman boots today.
Summary
Reviewer
Review Date
Reviewed Item
Kenetrek Lineman Extreme Ni St Brown Boots (Ke-405-Lni)
Author Rating