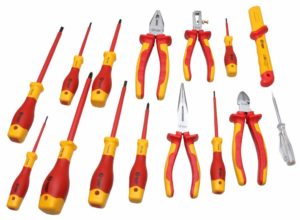 I know finding the best lineman tools can be tricky I thought of making my own reviews since most of these tools are largely used in my line of work. And I know how challenging it is to find efficient tools on the market. So, I have here with me the BOOHER 15-Piece Insulated Tool Set Review.
When buying your tools, you cannot explicitly know how effective and efficient the tools are. Most of the time, you rely on reviews and "word of mouth" especially if you don't have experiences yet. But evem so, these posts may already help you get an idea.
So, if you are looking for a basic yet all-inclusive set of tools for your own use, keep on reading. This will help you decide if this is a great purchase or not.
An All-Inclusive Tool Set: BOOHER 15-Piece Insulated Tool Set Review
The BOOHER 15-Piece Insulated Tool Set offers different kinds of tools. Apparently, these tools are the basic types that you would largely need in your lineman school. In fact, having your own sets of tools is a requirement in these institutions.
While others may prefer to buy individual tools, I would suggest for you to own them in sets. They are very convenient and pretty much cost-effective.
The same is true for this insulated tool set since it has screwdrivers, pliers, and cutters. And it is only appropriate since, certainly, you would use not only of each of these tools when you are on site.
ABout the set
This tool set is quite popular on the market today. It has been found that many apprentices, DIY enthusiasts, electricians, and other technical-related workers are very much attracted to this set.
For some reason, they see this set as a very effective tool in working on their respective jobs and tasks. And if you are looking for something like this, then this might be a perfect choice for you.
In general, this BOOHER 15-Piece Insulated Tool Set Review aims to show its interested users and buyers how they can be useful to certain tasks. Also, in this review, you would learn the general characteristics.
And with these points, you can easily and efficiently then know if they are up for your job or if they could pass your unique requirements.
Package inclusions
The set comes in a 17 x 13.7 x 4.2 inches red toolbox. It specifically includes:
2.5 x 75
3.0 x 100
4.0 x 100
5.5 x 125
6.5 x 150
PH0 x 60
PH1 x 80
PH2 x 100
PH3 x 150
4 Different Types of Pliers
8-inch Combination Plier
8-inch Long Nose Plier
6-inch Diagonal Cutting Plier
6-inch Wire Stripping Plier
Voltage Tester (125 – 250V)
Straight Cable Knife
And for a price that falls under the $150 range, this is quite an affordable purchase. Plus, you may consider it as a steal already!
Materials and Durability
These tools are all insulated.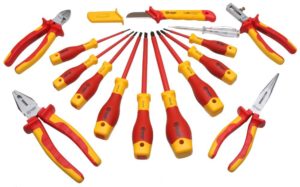 As it happens, each too went through different electrical tests and passed them all. This is great since this certifies that the tools are safe and ergonomic under 1000 voltage.
Insulated pliers are all made out of CR-V steel. As for the screwdrivers, they all use an S2 steel material.
In totality, the materials feature an anti-burn function and a high-low temperature resistance. And I find them all very safe to use in any project or task. Moreover, the materials utilized in these tools are of finest qualities. Hence, safety and security can be quite secured when they are being used on sites.
Advantages
All in all, the BOOHER 15-Piece Insulated Tool Set is great set to purchase, especially if you are still on your training phase. But even so, lineworkers are found to utilize them as well.
It is affordable and pretty durable too. Some users even state that they still have their own sets even after many years of full utilization of the tools.
In addition, the tools are found to be very pleasing to look at. But aside from its pleasing appearance, their physical attributes generally add to the overall safety and security of the tools. They are very easy to be found and they do not promote any risks on site.
Drawbacks and Disadvantages
But while they are very much successful in attracting many buyers, some people find this tool set quite overrated. For some reason, these users are much more inclining towards other tool sets from other brands.
Although it is just fitting since there are a lot to choose from on today's market, here are some points why:
Firstly, the most apparent drawback to this is that all parts came from China. And most people tend to have a negative stereotyping when a "made in China" mark is seen or heard.
In fact, some people see this set as a tool that is not very durable and sturdy simply because of its place of origins. Nevertheless, actual users attest that it takes years for the tools to lose its efficiency and functionality.
Secondly, this BOOHER 15-Piece Insulated Tool Set does not offer any innovative and advanced feature, unlike the other high-end tool sets. But while it does not have these kinds of innovative solutions, this set makes it much more ideal to people who are just interested in owning a simple and basic set of tools.
Final Words
BOOHER 15-Piece Insulated Tool Set offers simplicity and basic functionality. While it may not provide other advanced features, the set has become one of the top chosen sets of lineworkers and DIY enthusiasts today.
Now, if you are looking for an affordable, simple, and all-inclusive insulated tool set, this could be a great choice for you. It may not be the best tool set for some, but for others, this is already a great buy.
Keep in mind that this is not necessarily mean that you must purchase this set of tools. In the end, your decision will be the one that should matter.
Now, if you want to learn more about this set, here is a quick and thorough video of one of today's great BOOHER 15-Piece Insulated Tool Set review posts:
Summary
Reviewer
Review Date
Reviewed Item
BOOHER 0200105 15-Piece 1000V Insulated Tools Set
Author Rating