Recently, I had a close encounter with one of Klein Tools newest products. I've come up with a guide for buyers who are looking for either an upgrade or replacement for their gloves. Hence, here is the Klein Tools 40082 Lineman Work Gloves Review.
Klein Tools has been one of the most popular brands in the electric industry. They offer several tools and equipment for every lineman and electrician. And if you are to ask professionals in the said industry, you would always get a positive response when it comes to Klein Tools' products.
However, no product is perfect. So, it is best to expect for drawbacks as well. Even for the Klein Tools 40082 Lineman Work Gloves.
Lineman Gloves Today
Wearing the proper Personal Protective Equipment or PPE is necessary to every lineman. Apparently, these gears prevent several accidents, especially on sites.
Aside from a pair of lineman boots, a pair of work gloves is the next most important PPE to any lineman. Gloves, in general, are essentially used to protect the hands from several dangers. As to a lineman, a pair of gloves prevent normally the dangers of handling electrical tasks on a daily basis.
Today, you could see different variations of protective gloves on the market. And while the selection is quite wide, the purpose of each still varies depending on the material and quality.
Accordingly, this guide may help you in deciding if this specific pair of work gloves is the one that you need right now.
A Close Encounter: Klein Tools 40082 Lineman Work Gloves Review
This pair of work gloves has 4 different sizes. You can choose from medium up to double extra large. As for the price, it won't reach $30 or more. But, the size plays a good role in its pricing.
The materials of this pair are mainly leather. It features a 4-inch leather with Neoprene cuffs and side vents. And from this material, it is safe to say that the gloves are not entirely for handling circuits and wires. These materials are normally good for climbing only. And in line with the costs, it's a little expensive.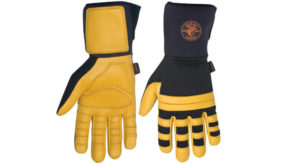 So, if you are looking for a pair that can handle circuits, cables, and lines, this is not the one that you are looking for.
As for its overall built, it features a soft grain leather construction. Also, it comes with a reinforced leather palm and double-padded knuckles. And with this type of construction, it's easy to see that you can count on its durability.
Other than this, there are no further innovative solutions that this glove can offer.
Ultimately, this pair of work gloves is nice and of the best quality. But, if the functionality is the point of the subject, then the Klein Tools 40082 Lineman Work Gloves is not a great option for you. Nevertheless, if you just want a great and nice pair to go along with your climbing activities, you may go ahead and purchase one.
If you are looking for more details about the Klein Tools 40082 Lineman Work Gloves review, you may check it here:
Summary
Reviewer
Review Date
Reviewed Item
Klein Tools 40082 Lineman Work Gloves
Author Rating