Wolverine boots are very popular for its durability. While it's been only a few months since I had my first Wolverine pair, I had my fair share of experience with this pair. In fact, this led me to create my Wolverine Chesapeake Boots Review.
When I started as an apprentice, I find it very hard to choose the most appropriate lineman boots for me. The market for such boots is not very large. But while the range of selection is not that wide, it has become a challenge for me.
Thankfully, I have found an effective guide that enabled me to choose carefully. If you're in the same shoe as I was, here is the guide that I am talking about. I highly suggest that you read it before buying a pair of lineman boots.
Now, this review may help you as well to know whether the Wolverine Chesapeake Boots is a great fit for you or not.
A Short Wolverine Chesapeake Boots Review
Basing on the guide that I've included, this review will stick to that points. So, it will be much easier for you to decide.
comfortability
I find this Wolverine pair of lineman boots very comfortable. The size fits well even if my feet are quite wide. It sticks. So, it's easier for me to move around and climb.
Also, the ankle support is pretty decent. It features a 10-inch height. And I am really fond of this height. For some, an 8-inch pair of boots will do. But, since my calf is quite long, the 10 inches types works for me.
As for the heel, it comes with 2 inches of heels. While I would prefer a much shorter length, it pretty works well. But, I would be really glad if they made it shorter than this.
Soles
The Wolverine Chesapeake Boots has synthetic outsoles. Personally, I prefer rubber but the outsoles of this pair provide enough traction and tread. So, it's really not an issue.
As for the insoles, it's apparently a foam but with cushioning.
Insulation and waterproofing
One of the things I love about this Wolverine pair is that it comes with a 400-gram of Thinsulate. This means that I get to wear thin socks. Moreover, it keeps the water out.
In short, I find all the security and safety features quite efficient. And these are very essential factors to consider when buying a pair of lineman boots.
Durability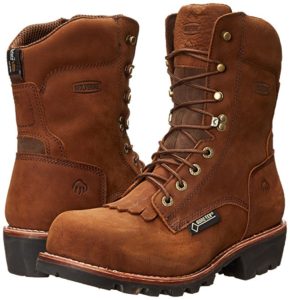 The best thing about Wolverine boots is that it can last for years. Although mine is yet to confirm this statement, many of co-linemen would largely attest.
In fact, some of them have used their Wolverine boots for more than 5 years and it's still in good condition. But, I wouldn't suggest that you use the same lineman boots for more than 2 years.
Nevertheless, durability is out of the issue in the Wolverine Chesapeake Boots. This is probably one of the many reasons why it's quite expensive.
In the end, your preferences are the ones that will matter. It is you who will use the boots, so, be mindful when choosing your pair.
If you want to know more about the Wolverine Chesapeake Boots Review, you may want to watch this video as well:
Summary
Reviewer
Review Date
Reviewed Item
Wolverine Men's W05523 Chesapeake Boot
Author Rating