Recently, I was able to check out a few work boots on the market. I am really excited to purchase a new pair for my new work. And as I consider every pair that I see, I was able to classify the great ones! Accordingly, I decided to make a Thorogood Men's American Heritage 6-Inch Boots Review.
Apparently, this pair of boots is not really the one that I purchased. But, I saw how most consumers asked about this specific pair. And I was very curious as to why this pair of boots got a lot of fans today.
Now, I made this guide to help consumers like you, especially if you are in a lineman's field, to know whether this pair of work boots is appropriate in our line of work. And if you want further assistance in choosing a great pair of lineman boots, this post may help you too!
A Quick Look On The Thorogood Men's American Heritage 6-Inch Boots Review
Thorogood is actually a footwear brand that releases various kinds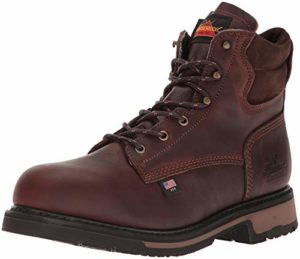 of work boots. And if you are a worker or a laborer from a technical-related industry, you would know how different their boots are.
But even so, the Thorogood Men's American Heritage 6-inch Boots is quite a phenomenal these days. For some reason, many laborers from different fields are looking forward to owning one. So, let's see whether this pair of boots is an appropriate type for a lineman.
General Built and Appearance
This pair of 6-inch boots from Thorogood is one of the shortest types from their product line. As the name states, it features a 6-inch shaft that starts from the arch of the boot. To be specific, it actually measures 6.25 inches in totality.
Also, this pair of boots come in two colors – black walnut and walnut. There is not much difference between the two. But if you have an eye for color differences and blending tones, you may notice the difference between the two.
The material is a full-grain leather. As for the outer soles, it is rubber. And for the inner sole, it uses a Poron comfortable cushion to provide extra comfort and convenience for users. In addition, just like any Thorogood product, it is manufactured and made in the United States.
Features and Specs
In terms of its specification, the Thorogood Men's American Heritage 6-Inch Boots feature a fiberglass shank. Also, it comes with a removable dual-density polyurethane and a 90-degree heel slip-resistant outsole. Additionally, it has a removable shock absorption footbed.
The Verdict
With these kinds of features, it is safe to say that lineworkers may utilize this kind of boots. But, it is also important for you to note that it is not largely recommendable for lineworkers who are working on sites and fields already.
If you are an apprentice or a lineworker who is still practicing how to climb and how to manage things in the field, this pair of boots can be a great type for you.
Summary
Reviewer
Review Date
Reviewed Item
Thorogood Men's American Heritage 6" Classic Plain Toe, Safety Toe Boot
Author Rating