Ariat is well-known for its unique sense of style when it comes to their work boots. In fact, not only technical-related workers are seen to have used their products. Many employees in the corporate world are also fond of Ariat's footwear.  But, as a lineworker, is it really advisable to wear these kinds of boots? Well, we will find out in this Ariat Work Men's Rebar Flex Western Work Boot Review!
By and large, lineworkers have a very special set of tools and gears. These lineman tools and gears are all designed to suffice the needs and requirements of a lineworker in a field. And all of which have their respective special ratings and standards.
Accordingly, many are wondering if this popular Rebar Flex Western Work Boot is also applicable for a lineman.
A Comprehensive Look On The Ariat Work Men's Rebar Flex Western Work Boot Review
The Ariat Work Men's Rebar Flex Western Work Boots is designed for versatile usage. With its colorful and unique style, many are really attracted to buying this pair.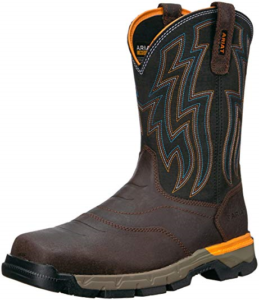 As for linemen, many are considering this pair. However, there are some who specifies that this would not be a great pair of work boots when working on site. Nevertheless, many apprentices and lineworkers are still purchasing this pair of boots. And certainly, they have their own respective reasons.
Now, if the Ariat Work Men's Rebar Flex Western Work Boots is one of the boots that you are considering to buy (as a lineman), let's look at the built, features, style, and specifications of the boots.
Built and Structure
As mentioned, this pair of work boots from Ariat is quite well-known today due to its colorful and vibrant style. It appears that it is very suiting for workers and users who are very meticulous with their style and appearance.
Alongside the colorful tones of the boots, it actually plays its base color in brown hues. And this is quite appealing since most workers and linemen are fond of using brown and black boots.
As for the material, the boots use full and imported leather. Also, the soles are strictly made out of rubber which gives a pretty decent treading and traction function. In addition, the shaft of the Rebar Flex is rated at 10.25 inches from the arch.
Comfortability and Durability
Actual users of the said boots have attested that this pair is very comfortable. And this is probably because the pair features a 4LR or four layers of comfort footbed.
In terms of its durability, it is seen that Ariat work boots can last up to 8 years of strict usage. So, durability can be, in some way and somehow, expected from the Ariat Work Men's Rebar Flex Western Work Boot.
Features and Specifications
Now, it is important for you to note that lineworkers need a pair of work boots that have specific features and specifications. These features would include insulation, weatherproofing applications, steel shank features, and steel side breastplates.
But, the Ariat Work Men's Rebar Flex Western Work Boots do not have these specifications. Hence, it is not very advisable for lineworkers to use this boots when working on site. Although lineworkers may still use them when working on simple tasks that do not require any climbing activity or managing of live wires.
Summary
Reviewer
Review Date
Reviewed Item
Ariat Work Men's Rebar Flex Western Work Boot
Author Rating