When I started my apprenticeship to achieve my dreams of being a lineman, I have no idea of what tools should I have. Although they are basically taught during classroom sessions, I don't know where to start looking for my own tools. So, if you are experiencing this kind of challenge right now, you may want to read on. Well, I have here an R-deer Insulated Screwdriver Set review for you.
This guide will help you know whether this is a great addition to your basic tools or not.
Screwdrivers Today
In the recent times, there are quite a lot of screwdriver models available on the market. Consumers can choose depending on their respective preferences as they come with various designs, features, and prices.
Having a set of screwdrivers is very essential. Even if you are an ordinary homeowner or an apprentice in a lineman school, you will surely need to own a set of screwdrivers.
A Quick Look On R-deer Insulated Screwdriver Set Review
The R-deer Insulated Insulated Screwdriver Set is one of the prominent basic sets today. With a price that falls under the average range, it's a pretty decent set of screwdrivers for any apprentice, lineman, and DIY enthusiast.
Although it does not any innovative feature that may surprise you, it caters enough functionality to do a task at hand.
Set Inclusions
The set includes 11 types and sizes of screwdrivers:
4 Pcs Slotted
1.2 x 6.5 x 100
1 x 5.5 x 100
.8 x 4 x 100
.5 x 3 x 100
2 pcs Phillips
2 pcs Pozidriv
2 pcs Torx
T20 x 100
T15 x 100
T10 x 100
Along with the various types of screw drives, the set also includes 1 pc screwdriver handle and a 140 mm Single-Pole Voltage Tester. These are all placed in an organized and neat mini toolbox.
All of the inclusions is what makes this screwdriver set a great one. In my own experience, they are all quite useful not only for a lineman but also to any homeowner with several DIY projects.
Screwdriver handle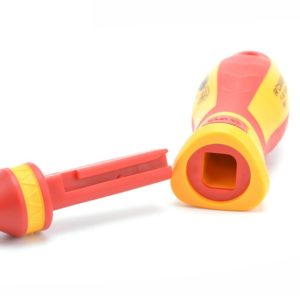 The set has one removable insulated screwdriver handle. This is quite the wildcard aspect of the set. Some may find it as an advantage. Others, however, find it a drawback since it may cause inconveniences at times. For instance, when you need to use several screwdrivers, you may need to remove the handle and attach it to the needed screwdriver.
Nevertheless, the handle is an easy and non-slip grip. It's also ergonomic too. And it features two colors: red and yellow.
durability and other functions
All of the screwdrivers are made out of chrome vanadium steel. This is a very durable material and a rust-resistant as well. As for the tips of the drivers, they have a hardening material for a much efficient torque. The rest of the shaft has a manganese phosphate surface.
In addition, they are magnetic and can safely work under 1000 volts live electrical lines and environment.
So, if you are looking for a basic screwdriver set, the R-deer Insulated Screwdriver Set can be a great choice for you.
Looking for a much detailed take on the R-deer Insulated Screwdriver set review? Here is a video that you can check:
Summary
Reviewer
Review Date
Reviewed Item
RDEER 1000V Insulated Screwdriver Set CR-V Magnetic Phillips Slotted Pozidriv Torx Screwdriver
Author Rating