Being a lineman is not only limited to men. Apparently, many women today aims to become a lineworker. In fact, several lineman schools state that more than 50% of their apprentices are women. And as a female lineworker for many years, I know the challenge of combining style and appropriate clothing in the industry. So, I have here with me my Danner Flashpoint II Leather Boots Review.
This review is for lineworkers who want to choose lineman boots that can complement their overall appearance and style. Also, boots that will suffice their lineman requirements and needs.
The Danner Flashpoint II Leather Boots Review
Personally, I have been looking for a pair of protective boots that can go side by side with my style and appearance. Some may think that this is not essential. But, for me, this is a part of my identity. And I always want to look presentable. So, for many years, I tried to search for "the" lineman boots.
I have found it but it's not the Danner Flashpoint II Leather Boots. Sadly, the one that I bought many years ago is the last pair of the brand. For some reason, they have stopped manufacturing boots and safety shoes. Nevertheless, I came across the Danner Flashpoint pair.
I purchased one recently and tried it for weeks. Here are some of the essential things that I've seen while using it: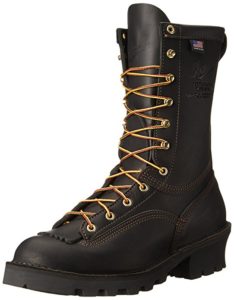 This Danner Flashpoint pair is apparently for men. So, the sizes are quite bigger. But, the style and appearance are flexible for both genders. And many from my group are actually using the same pair.
The point here is that it can be used by both male and female lineworkers. But, if you are female – you may want to consider the sizes.
Also, the pair comes with a 2-inch heel and a 1-inch platform. Accordingly, many female linemen are attracted to these features. But while it adds height to the user, surprisingly, it does not cause any inconvenience when climbing.
The materials used in this pair is 100% leather. So, you can expect a long-term usage. If it helps, this is made in the USA.  In addition, the brand offers repair services that include stitching, part replacing, and leather conditioning.
Stitching is largely included in the services because of the stitch design. It is quite different from the typical boot stitches which add durability and strength to the boots.
The leathers and other parts of the boots have waterproofing features. However, they are not as efficient as I thought. Nevertheless, it can be resolved by rubbing mink oil and conditioner.
It is not also insulated, unlike other lineman boots. So, they are pretty much designed for climbing tasks only. Moreover, they do not have a steel shank and are not steel-toed.
If you want to know more about the Danner Flashpoint II Leather Boots Review, you may check this video:
The Verdict
Now, the Danner Flashpoint II Leather Boots are indeed a great pair of lineman boots. If you are very much conscious of your style and appearance during site hours, this is a great choice of boots. But, if you are looking for a much safer and all-around lineman boots, you may check other pairs on the market instead.
Summary
Reviewer
Review Date
Reviewed Item
Danner Men's Flashpoint II 10 inch All Leather Work Boot
Author Rating