This is my first pair of lineman boots from Carolina. And so far, it's holding up to my needs and wants. Although, it's only been a few weeks when I purchase this. But, I find it suitable to make this Carolina 8-Inch Steel Toe Boots Review.
I have been using several boots for quite some time now. Since my work is significantly the reason why I need a great quality of boots, I try to be as thorough as possible when choosing a pair.
Well, being a lineman is no joke. Ever since I attended my program from a lineman school, I know how important it is to have a pair of quality boots. And with my recent purchase, I cannot say yet if it's the best or one of the bests.
Nevertheless, I was able to gather a few important points. And this could help many lineworkers like me in the industry.
A Carolina 8-Inch Steel Toe Boots Review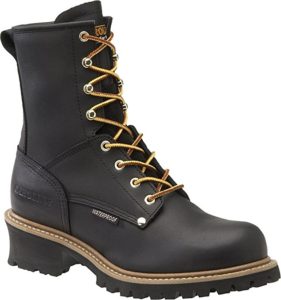 The Carolina 8-Inch Steel Toe Boots is not, in essence, a pair of lineman boots. I would describe it as a pair of logger boots. Even so, logger boots could work for a lineman.
The main material of this boots is leather. But, it also comes with a rubber that is intact with the outsole. I like the idea of including the rubber since it provides great traction and aggressive treading.
This is very important for any lineman in the industry. Since climbing is a huge part of the daily tasks, I find the outsole very efficient and safe.
It's also lightweight. And I am quite surprised since it does not look like "light." But, being a lightweight pair makes it also a great attribute since it helps me climb much faster.
Also, it's very comfortable to use on a daily basis. Even when I'm out just to hang around, I tend to use these boots. They're quite flexible!
But while it's not insulated, it is waterproof and has an electrical hazard rating. So, lineworkers can really utilize this kind of pair.
Other Details
These details are the factors that I consider the least.
I am not very particular about the design or the appearance, but this pair offers 4 different colors. While I find them all quite similar to each other, there two light colors and two darker tones.
Also, the height is 8-inches. While others may like it much higher, I want my lineman boots at this height. So, it's a great fit for me.
As for durability, I am still looking forward to it. My experiences with this pair are not yet enough to tell whether it can last for years or not. But, we'll see about that.
If you are looking for details about the Carolina 8-Inch Steel Toe Boots Review, you may check this video:
The Verdict
All in all, I find the Carolina 8-Inch Steel Toe Boots very comfortable, safe, and efficient for a lineman. And if it's going to last for more than a year, I could say that this is one of the best boots on the market today.
Summary
Reviewer
Review Date
Reviewed Item
Men's Carolina® 8" Steel Toe Loggers Boot
Author Rating