Lineworkers or linemen play an important role in the society. Aside from electricians, they are the most suitable group of people to handle power lines and electrical towers using different insulated lineman tools and equipment.
By and large, a lineman is usually tasked to do outdoor installation and maintenance. And working these tasks are not done on the ground. The job is most of the time located on heights, especially on electrical towers and posts. Which is why climbing is very apparent for every lineman.
Now, in order for a lineman to do the job efficiently, there are tools, equipment, and materials needed. And these tools are not your ordinary home set of tools. While it may contain a few of those, others, however, are largely designed for this specific job.
Understanding The Common Lineman Tools and Equipment
As mentioned, there are quite a lot of tools that you can see in a lineman's toolbox. And all of these are necessary. With the help of such tools and equipment, it makes the job a lot easier and safer.
Accordingly, these tools can be classified into different categories. Since the range of tools is too wide, the focus is much more on the common types.
Handheld Lineman Tools and Equipment
Handheld tools are usually the ones that pop into your head when the word "tool" is mentioned. Accordingly, the most common handheld tools include screwdrivers, nut drivers, pliers, and cutters.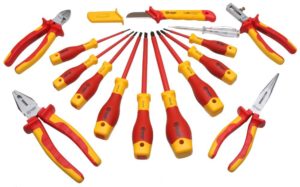 A screwdriver is for screwing and unscrewing screws. It is usually insulated to prevent accidents when handling live wires. It also has three parts: handle, shaft, and the tip.
The handle is typically made out of different materials such as wood, steel, or plastic. It is important to regard the designs of a handle as this plays a huge role in the aspect of grip.
The shaft is normally a good grade of steel. And the durability of the shaft is important too. When cheap materials are used to build the shaft, it would bend or twist which could cause a lot of damage and hazard.
As for the tip, it is always recommended to go for magnetic types. Also, screwdrivers are largely classified by its tip. The shapes of the tips are based on the head of the screws.
Today, there are almost 40 types of screw drives. And in each type, there are numerous sizes. But while they come in great variation, there are only a few that is common.
This is also the reason why sets are widely offered on the market. So, depending on the use or purpose, a lineman always possess sets of screwdrivers.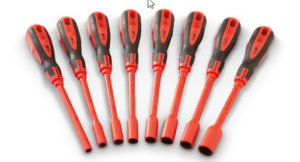 In essence, nut drivers are like screwdrivers but work differently. It also has a circular handle for grip, a stable and durable hollow shaft, and a socket instead of a tip.
Linemen largely use the nut drivers for tightening nut and bolts. And they are also utilized for much lower torque applications.
Normally, having a basic set of nut drivers is a requirement when entering an apprenticeship program. Its functionality is somewhat similar to screwdrivers'. And because of this, you would see a lot of sets that include nut drivers and screwdriver inclusively.
Same with the screwdrivers, nut drivers also come with insulation. And before using them, each driver should have certifications meeting different electrical standards.
Pliers come in different variations too. But the most common type that every lineworker has is the Lineman's Pliers. It is apparently a combination plier that provides both gripping and cutting functions.
Aside from these functions, lineworkers use pliers primarily to twist, bend, and trim wires and cables.
Accordingly, different types of pliers of lineworkers have insulation on the grip as well.  This prevents the electrical shock when handling live circuits. And in line with the screwdrivers and nut drivers, lineman pliers must also withstand specific voltages that may reach up to 1000 volts.
Cutters and knives usually go side by side with most pliers. Essentially, the appearances of cutters and cable knives are similar to how pliers look like. Hence, some designs are already all-inclusive for a much convenient usage.
But as for the stand-alone cutters and cable knives, they have insulated grips as well. Also, they usually have the capability to hold up to 1000 volts.
Other Lineman Handheld Tools
Aside from the common tools, there are much more to see in a lineman's toolbox. This includes hammers, rulers, knives, wrench, sockets, hex keys, bits, and a few hydraulic tools.
Your career as a lineman starts with the basic lineman tools and safety information, like in this video:
Personal Protective Equipment (PPE)
Wearing the right Personal Protective Equipment or PPE during work is a standard procedure that must be followed by every lineman. These equipment are largely for preventing accidents and promoting safety.
Lineman Boots
Lineman boots are the most important PPE in this field of work. Since climbing plays an important role in a lineman's job, a safe and efficient pair of boots is a must.
Today, you could see different brands and types of lineman boots. But, only a few could provide efficient quality and durability. So, when choosing for a great pair of lineman boots, there is a need to consider several factors first. Besides, lineman boots are not very cheap.
Gloves and Other Protective Suits
The standard PPE in any line of a technical job includes lineman gloves with insulation, protective suits, safety vests, goggles, hard hats, and first aid kits. All of these are necessary since it all prevents accidents and promotes safety on site. So, these equipment are a must-have for any lineman.
But since the range of PPE and protective accessories is quite wide, consumers must note that a quality PPE or protective accessory for a lineman should always possess features that will prevent accidents that usually occur when handling electricity.
Final Thoughts
Any lineman knows how essential these tools are. Without these lineman tools, it will be impossible to finish the job without having accidents. In fact, it will be impossible to do a lineman-related job at all!