The West Coast Shoe Company or Wesco has been one of the leading names in the shoe and boots industry. Also, the company has run for more than 100 years making them one of the prominent brands. And this Wesco Highliner Lineman Boots Review could give you an idea about their boots.
Today, many linemen and apprentices are looking forward to owning one of the Wesco boots. And there are a lot of reasons why. Most of them would attest that all Wesco boots have the features that a pair of lineman boots should possess.
If you want to know what these qualities are, you may proceed in reading it here. But if not, and you want to know more about the specifications of their boots, specifically the Wesco Highliner Lineman Boots, then continue to read on.
A Thorough Look: Wesco Highliner Lineman Boots Review
Having a quality pair of boots is highly required for every lineman. This is because boots are the number one personal protective equipment of a lineman.
Theoretical Perspective
Now, Wesco knows efficiently the idea of having these boots for a lineman. As a result, they have provided features and functions that can cater safety, convenience, and security to each user. And these features include:
100% 7-ounce full-grain leather material
Non-corrosive steel shanks
Recessed metal heel breastplate
Extra-arch support
Apparently, all of these main features provide durability, efficiency, and safety to every lineman user – theoretically. These are largely the reasons why every lineman would want to have one of these pairs.
But while these features do sound great, they are all in theory. So, what happens then if the boots are used in real life site situations?
Actual USage and application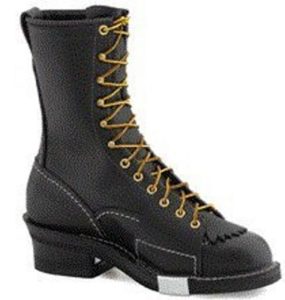 I have a friend from my lineman school who was able to get one of these pairs. He was so delighted and satisfied with his purchase. As for me, I do want to buy one but I'm not yet sure since they are pretty much expensive.
A pair of Wesco Highline Lineman Boots would cost you around $450 up to $500. And these prices are pretty high for a pair of lineman boots. So, I asked him why he this could be a great purchase. These are the point that I got:
Essentially, lineman boots are very important to every lineman. These are the main protection – so price shouldn't be a question. Although for some, this could be a top factor to consider. Nevertheless, a pair of Wesco Highliner Lineman Boots is a great investment.
Durability wise, it could last for more than 3 years. Many tenured lineworkers in our field could attest to this.
All features given above – in theory – are all effective and efficient. They apparently won't let any lineman down. In fact, these features largely provide convenience and safety when it comes to climbing.
Steel shanks could provide ultimate stability when in use. Also, the metal heel breastplate allows full protection when climbing spurs. And as for arch-support, it pretty much gives an accurate and quality ankle support.
In totality, the Wesco Highliner Lineman Boots is a quality pair of lineman boots. And if you want an efficient and durable type, this could be the best on the market today.
Now, if you want to know more about the Wesco Highliner Lineman Boots Review, you may check this video:
Summary
Reviewer
Review Date
Reviewed Item
Wesco Highliner 10" Lineman Work Boot Black - 9710100
Author Rating