My journeyman supervisor requires me to wear a safety vest. And even if we are on site during sunlight, they still ask all apprentices to never take our vests off. So, I thought of investing a little bit on my vest. So this led me to write an XSHIELD High-Visibility Safety Vest Review since I'm pretty satisfied with my purchase.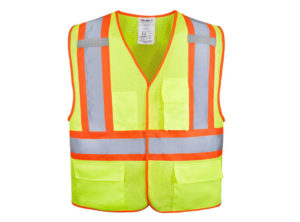 Although I am quite happy with this safety vest, I am not explicitly implying that this is the best. In fact, it also has its drawbacks. But, I would like to help other lineman to get the most appropriate safety vests for them. And this review might be of any assistance.
My Personal XSHIELD High-Visibility Safety Vest Review
In my lineman school, not following any PPE-related regulation is a heavy offense. And I am really up for it since a lineman's job is quite risky. In fact, it is full of hazards.
Now, wearing safety vests is a very important part of your linemans equipment. I cannot stress enough how important these vests are. Nevertheless, I know I have to invest in my personal protective equipment. So, I bought the XSHIELD High-Visibility Safety Vest.
As mentioned, I am quite satisfied with it.
Reflectivity and Visibility
Primarily, it features a 360-degree reflectivity. This is a highly important factor to regard when buying a safety vest. Also, it comes with 2-inch width two-toned tape. It goes from the chest, back, and shoulders.
I find them very reliable since I literally glow during the wee hours on site.
Material and Sizes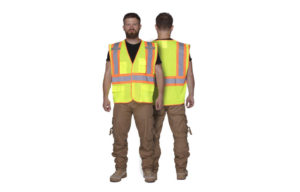 The main material of this safety vest is a polyester mesh fabric. This material makes the vest more comfortable and lightweight. But while it offers 5 different sizes (ranging from small up to double extra large), I find them all huge to wear.
This is probably the biggest drawback of this product. I know several apprentices who use the same brand and model. All of us have the same sentiments when it comes to the sizes. Unfortunately, even the smallest size is too big for everybody.
Size is very important to consider when buying a safety vest. When you use a much bigger size than your actual size, it can cause risks in the field as well. So, try to assess first the size that you can work freely and comfortably.
Functions and Other Features
Another thing that I like about this vest is its multi-function pockets. It has a dedicated pocket for smartphones which is located on the left side of the chest. As for the right side, there is the pen pocket. The other two pockets are in the lower areas.
The closure design of the XSHIELD High-Visibility Safety Vest is a hook and loop type. This is a great design since it is very easy to seal yet it holds strong.
As for its cost, it's very affordable. You can purchase it for less than than $15.
In totality, this safety vest is great and efficient for any fieldwork. It highly promotes safety when working with hazardous tasks.
To learn more about the XSHIELD High-Visibility Safety Vest Review, you may watch this video and see it for yourself:
Summary
Reviewer
Review Date
Reviewed Item
XSHIELD High-Visibility Safety Vest
Author Rating