A lineman tool belt is one of the most important accessories of a lineman. Since climbing plays a huge role in a lineman's job, they largely need something that will help them on this. And one of the things that could provide convenience and reliability for them is the tool belts.
However, the market offers a wide range of selection when it comes to lineman tools and belts. Hence, there are times that linemen, especially entry-level apprentices, find it difficult to choose the best.
So, I've decided to list and review all the popular and high-rated lineman tool belts of today. This will help you know whether a certain belt is great for you or not.
A Quick Review on Different Lineman Tool Belt Varieties
Before you proceed on reading these reviews, you have to remember that no product is perfect. So, you have to be aware that there are cons and drawbacks as well in each product. Nevertheless, these tool belts may suffice your needs and requirements.
CLC Custom Leathercraft 1608 Combo Tool Belt
The CLC Custome Leathercraft 1608 Combo Tool Belt can provide up to 46 inches of length measurement. Also, it features 28 pocket organizers. But while it only has a much lesser number of pockets than any other tool belts, it has a 4-point suspender. And this means you won't experience any tool belt falls during your climb.
It's pretty comfortable too. The belt features 3 layers of pads which support fully your waist. Also, you can bring huge hand-carry equipment such as drills due to its large compartments.
However, it's quite bulky and heavy. So, if you want lighter tool belts, you may want to find other types. Nevertheless, you can buy this at a price below $75 on the market.
Carhartt Legacy Lineman Tool Belt
The Carhartt Legacy Tool Belt is one of the inexpensive tool belts of today. For a price below $50, you can already have a decent lineman tool belt.
It comes in two colors, black and beige. As for the length, it can fit up to 42 inches of waist line. Also, it only weighs 1 pound.
And since it's pretty cheap, you should expect that you get what you pay for. This tool belt features 5 huge pockets only. So, it's pretty basic and can only handle basic tools. Nevertheless, it can last up to years of constant usage.
But if you are looking for a more fully-functional tool belt, this is not for you. This is only meant for lineworkers who would do basic jobs and alike. Moreover, it is important for you to take note that some lineman schools and employers would discourage you to utilize this belt on site.
Hence, you could consider this tool belt as a practice belt for your climbing training.
Klein Tools 5268N-18D Lineman Tool Belt
Klein Tools is one of the prominent brands and names in the electrical tools industry. The quality and efficiency of their products are the things that made them popular nowadays.
Now, the Klein Tools 5268N-18D Lineman's Tool Belt is kind of expensive. For a price under $250, you may already have a Klein Tools tool belt.
This design comes in different sizes ranging from a waistline of 32 inches up to 55 inches. The material used in this belt is a rolled-edge leather that can support your back during your climbing tasks.
Also, it features 6 ply or layers of comfortable pads to provide ultimate comfort and stability as you ascend. As for the pockets, it has several D-rings from one hip to another.
However, this tool belt is advisable for lineworkers and apprentices that would only use this for short periods of time. It can be quite uncomfortable for some to wear this for a long time.
Occidental Leather 9855 Tool Belt Bag
The Occidental Leather 9855 Tool Belt Bag is the most expensive tool belt bag in this list of mine. You can purchase this for a price under $300 on the market. And for a tool belt and bag, this is pretty lucrative. Nevertheless, you will surely get what you will pay for.
Many lineworkers, especially journeymen, recommend this tool belt to many electrical workers. Aside from its overall functionality, it provides ultimate protection and safety to the users.
I've had my fair share of experience with this belt, and to be honest, I was quite impressed. But while I find this piece very expensive (to the point that I am thinking twice – even thrice – to buy this), I will also recommend this, especially to experts and tenured lineworkers.
It features two huge tool bags with depths of 10 inches. Also, it has several D-rings for suspension. Aside from these features, it also provides handles for hammers and handheld tools.
CLC Custom Leathercraft 6714 Combo Tool Belt
If you want a quality tool belt that has a very inexpensive price, the CLC Custome Leathercraft 6714 Combo Tool Belt can be the right one for you. Apparently, you can have this for a price below $75 which is very cost-efficient, especially if you are an entry-level apprentice or lineworker.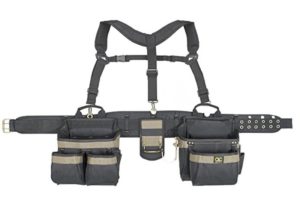 It features unique pad suspenders that can significantly distribute the weight. In fact, you can even carry huge handheld tools with you using this tool belt. So, no matter how heavy your tools are, you can easily bring them with you as climb and ascend on poles, towers, and posts.
Also, comfort is largely ensured in this tool belt. Many of my friends who use this would say that this tool belt is a steal!
But the main thing I love about this belt from Custom Leathercraft is its Spill Proof feature. You can conveniently ascend on towers and poles without worrying that your tools will fall.
Final Thoughts
Today, it can be really challenging to choose the right tool belt for you. In fact, you have to consider several factors too. These normally include durability, functionality, weight, dimension, and price.
Hence, before you purchase your own tool belt, make sure that you have already considered these factors. This will enable you to choose the most suitable for your needs and requirements.