Ever wonder what lineman bucket bag sets are for?
Line workers are the people who risk their lives for us. In fact, we could enjoy the power that we need on a daily basis because of them.
In short, they are the men that work 24/7 to keep our lights on. Since their job is risky and very hazardous, they are and must be wearing a complete protective gear which includes hard hat, protective glasses or goggles and face shields, insulating shirts with flame resistant fabric; rubber gloves and safety shoes.
But besides all those, a line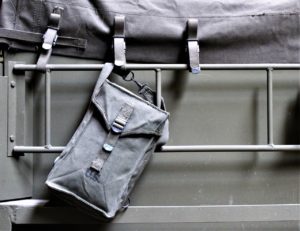 worker also carries a Lineman Bucket Bag. And this is a must to have their tools with them when they are doing their job. It carries all the appropriate tools that they need in particular tasks and these tools may weigh a total of 30 pounds.
The Purpose and Use
Line workers are really required to carry the bucket bag to allow them to work without interruption, especially when on great heights.
This lets them put all the tools that they need to save time and effort in climbing heights and towers, to and from. In fact, if you ask Linemen what they can't live without in the field (when in a complete gear of course), it's the bucket bag. And in their work stress, it is indeed a great help for them to easily do their job because every tool they need is within their grasp.
Line workers require skills and knowledge that is why building power lines have to consider a wide range of specialized and selected lineman tools. The work is not an ordinary job. It is extremely dangerous. Also, the work is done wherever, whenever, and whatever the climate's condition – in all types of weather. That is why it requires and demands a lot, physically.
What's In a Lineman Bucket Bag?
What composes the total of 30 pounds? Let's take a peek inside it to see those tools.
A bucket bag may or may not have the following tools:
a Staple Holder, which is use to protect gloves and fingers while hammering staples
an Assisted Knife with safety lock, which is use to open a blade safely
Impact Socket is for use with powered impact drivers
4 in 1 insulated box wrench
a folding ruler which is sometimes called – the zig-zag rulers and sometimes jointed rulers. It is used to measure length or distance in confined spaces
a lineman's Hammer which is used to hammer bolts and drive a big lag screw
a Lineman's Skinning knife or Skinner Knife which is used for skinning wire bodies
Bucket Hooks
a Multi-sized Lineman's Goat Wrench which is used to draw a nut, a pipe or a bolt further into the throat. Its other side can be used for minor hammering.
Those tools mentioned are just the basic tools that may or may not be in a lineman's bucket bag. To top it all, this bag is a must for line workers who are always on the go. It allows them an easy task because all the tools they will be needing can be carried in one bag just within their reach.