A set of lineman climbing gear is not only focused on climbing boots. Apparently, lineman boots are only a part of the complete set. And there are so much more than having these boots to support your climbing tasks as a lineman.
So, do you know what these gears are?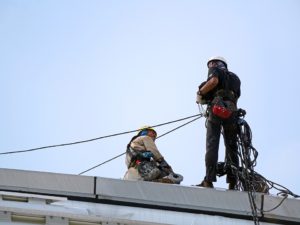 If you are a journeyman, certainly, you would know what these climbing gears are. In fact, you are well aware already of these gears and how they could provide safety and comfort. But, if you are an apprentice or an aspirant, there is a huge chance that you are not yet familiar with these things.
As a lineman aspirant, there is nothing wrong in not knowing the basic lineman climbing gear. And if you are still working your way to enter a lineman school for an apprenticeship program, this guide is for you. Some apprentices, especially the freshmen, may also utilize this guide.
What is a Lineman Climbing Gear?
In general, a lineman climbing gear is a set of tools, gears, and equipment that should provide safety, security, and comfort to any lineman as they climb.
Climbing poles, posts, and towers is a crucial part of a lineman's job. Most of their daily tasks include climbing activities. And we all know how risky and dangerous climbing heights are. Accordingly, this is where the importance of climbing gears enters.
Climbing Gears Today
Here are the basic and right gears for a climbing lineman:
Climbers (Spurs / Spikes / Hooks / Gaffs)
Climbers are tools that lineworkers use to provide extra support when they climb. Generally, it is called as climbing spurs. But due to the wide variety of the product, people normally call this as climbing spikes, hooks, or gaffs. So, to generalize all the names, many linemen today would use the term "climbers" to specify the spurs.
Now, climbers are normally worn on the leg to provide support during the climb. It has sharp claws and this is the reason why it's also called as climbing spikes. These claws are the ones that cling on to the post, pole, tower, or even tree.
Accordingly, it consists of three parts: main shank, shin pad, and gaff (which is why it is also called as a climbing gaff). And if you are looking for an efficient pair of climbers, you may want to check these parts as they are the factors you need to consider.
A climbing rope is not your typical and ordinary rope. In fact, climbing ropes that are used by lineworkers come with an EH rating. So, unless a certain rope has an EH certification, you cannot use it for your lineman tasks.
This rope is designed for lineman uses. And essentially, it is for supporting the climb and fall.
Now, the variety of climbing ropes on the market today is very wide. And many apprentices would largely find it difficult to choose the right lineman climbing rope. Hence, it is important to consider primarily the factors that affect the quality and function.
These factors include fall rating, rope category, diameter, impact force, static and dynamic elongation, sheath proportion, and length.
Climbing Belts and Saddles
The climbing belts of lineworkers are normally made out of leather. And they act like safe storages for lineman tools and equipment as one ascends up to do a lineman task.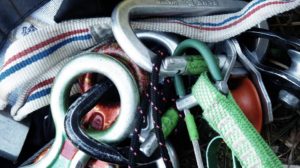 Normally, climbing belts would appear like they are two intertwining belts. The primary belt goes around the waist. As for the secondary, it hangs around the hip part to provide a hanging and swinging seat. And lineworkers could use the secondary belt to sit in during a climb.
This belt allows a lineman to rest during a climb. It is not possible for someone, even an expert lineworker to keep their legs forced for hours during a climb.
Now, climbing saddles are normally considered as belts too. But, they are much more inclusive and functional. They apparently include leg straps and support. And some lineworkers use either or both.
A lineman's climbing harness is like an all-in-one belt and saddle. Lineworkers would typically use this if the climbing task requires the use of a climbing rope.  Others, however, tend to utilize the harness as an ultimate substitute for belts and saddles.
Even so, it is still important to regard the rules and safety standards of a site or institution (if you are attending a lineman school).
By and large, a climbing harness is quite confusing to understand at first. It comprises of many parts and inclusions which may overlap a few of the essential climbing gears such as the belts and saddles. These parts largely include waist belt, leg loops, buckle, tie-in loop, belay loop, gear loop, haul loop, and leg loop cross piece.
Each part has its own distinct function and they are all essential to climbing.
A lineman climbing strap is a tool for efficient climbing. Your ascending and descending can be so much easier if you know how to properly use a climbing strap.
You may watch this video to learn more:

And lastly, the lineman climbing boots which are often considered to be the most important climbing gear of all. Although it's really important and crucial, it's not quite proper to address them as the most important. Remember, even if you have your boots, but you don't have the accompanying gears, you cannot still work on your lineman tasks.
Nevertheless, this Wolverine Chesapeake Boots Review may help you if you are looking for a quality pair of lineman boots.
Choosing Your Climbing Gears
In choosing your set of lineman climbing gear, you have to be careful and mindful of your decisions. And since the variety of products and types is very wide nowadays, it can be quite challenging for you, especially if you are still new in the industry, to choose the most appropriate gears for you.
Hence, it is important for you to understand first what these climbing gears are and what is their importance to lineworkers. Once you've understood the concept and application, it will be much easier on your part to decide which gears to get.