A pair of lineman boots with steel shank is the most preferable type of work boot for lineworkers. Apparently, steel shank has become a factor to consider today when buying a lineman boot. Although in the early years, this part was not given any importance, it became a very essential part in the recent times.
What is A Steel Shank?
A Steel Shank is a small piece of material that is inserted in the interiors of a work boot. And it is located in between the ball areas and heel to provide support to the user.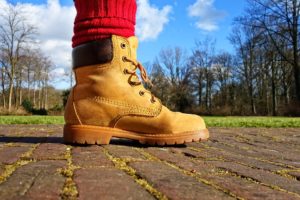 For a much clearer picture, think of a pair of a steel toe work boot. A steel toe boot is normally seen on construction workers and laborers. And this type of work boot is recommended for them since it protects their feet from falling objects. Now, the principle is similar to a steel shank. But while steel shank boots sometimes feature a steel toe function, it is minimal.
A steel shank in a work boot protects the underside of the user. And as a protection, it supports the user on his or her climbing activities. So, you can also say that it keeps and maintains the shape of the boot.
In addition, there are lineman boots that use other kinds of shanks. Some shanks are made from plastic, fiber, and steel alloy. But steel is the most traditional and it is usually the best of all.
Importance of Lineman Boots with Steel Shank
As a lineman, safety and security is always a must. It is actually one of the top priorities in the field which is why wearing the right PPE or personal protective equipment is required. Now, lineman boots with steel shank provide safety and security. But this only one of the main reasons why you may need a steel shank type.
Boots with steel shank are designed to provide ultimate protection to every lineworker. It protects the feet from any injury and puncture. Also, they give effective feet and leg support during a climb.
If you have overworked arches, then a steel shank may give you comfort. As mentioned, they provide support during a climb. This also means that the support caters comfortability since it can enable a lineman to climb efficiently and effectively.
You may check this Carolina 8-Inch Steel Toe Boots Review if you want to see the shank placements.
A steel shank in a lineman boot is like an investment. It keeps and maintains the quality of the boots due to its ultimate support and placement. Also, it protects the overall quality of the boots to stay in its optimal condition.
Some would buy new pairs of boots due to the uneven placements of the boot supports. But, if a boot has a steel shank, there is no need for you to buy a new pair. And you can even use the pair for a much longer period.
If you want to learn more about lineman boots with steel shank, you may refer to this video: