A set of journeyman lineman apparel is just appropriate for every lineworker. Apparently, they are the ones who are responsible for building and maintaining electrical power systems. And their jobs require a specialized knowledge and extensive training.
Also, they work on power lines and power plants doing all the work from its point to a client's meter. They focus on lines and generators used for electricity distribution.
Somewhat similar to a Lineman, a Journeyman Lineman covers a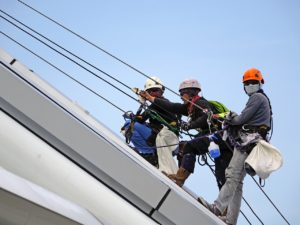 wider scope of responsibility. And being one is tough. You would need a license to perform the job. You would also need to religiously complete apprenticeship and lecture hours. Ultimately, pass the state licensing examination.
And speaking of tough, this job is extremely dangerous that is why it requires a special and proper apparel when on the job.
The following would be a list of a Journeyman Lineman must-have when working:
Hard Hat
This is a type of helmet that provides protection to linemen against injury and electrical hazards. It keeps the head safe from hard impacts on falling objects and accidental electric shock.
Insulated Rubber Gloves
These gloves are specially made for Journeymen Linemen. They are tested to provide protection against burn from the electric shock of up to 30,000 volts. These are worn inside leather gloves to protect the rubber from abrasions or any kinds of damage.
Equipment Tool Belt
Also known as the Lineman's suitcase. This revolutionary belt always comes with clips, loops, and rings that provide the carrying of a lot of different tools that a Lineman needs when working.
Climbers or Pole Climbers
These pair of aluminum contoured leg shanks hold gaffs in its place securely on a Lineman's boots. Accordingly, users would place it below the knee and come with Velcro pads for comfort and support.
Safety Strap
This apparel plays a huge importance in a Journeyman Lineman's job. It keeps him safe from falling while working on a pole. This strap is looped around the pole while both ends are hooked on the Lineman's belt. This strap provides a Lineman an easy and hands-free work.
Gaffs
These are a pair of razor-sharp steel points. And they are always in a pair of lineman boots for climbing poles. These are similar to the ones used by cowboys in Rodeo sports. Users would dig the spikes or the tip into the wood which provides an easy, efficient and safe climb for Linemen.
Boots.
Also known as the lineman boots because of its identifiable tall logger and serrated heels, for a better grip when climbing. It has a built-in steel shank into the sole which provides extra support on the pole.
Tool Pouch
This hangs from the back of the equipment belt that carries a variety of tools.
Ditty Bag
This is a Canvas bag that also hangs from the equipment belt and carries nuts, bolts, wires, connectors, and etcetera.
Hand Line
Some would call it Lineman's lifeline. It comes with steel clips and pulley block. This rope normally hangs from a pole's cross arm and is strong enough for hoisting heavy equipment.